1) Ritchey Road Barkeeper Lever
Let's start with an innovative, smart solution. How about using the dead space inside your handlebars with this ingenious hack? These patented, composite tyre levers slide right into your drop bars and you can pop them out whenever needed. Remember those movie villains with blades hidden inside their skull-topped walking canes? The Ritchey Barkeep Lever is something similar, albeit slightly less cool.

2) Fabric 16 In 1 Multi Tool
With the gift no. 1 saving space in your tool bag, you can easily fit this elegant and compact multi-tool by Fabric there. Don't get fooled by the foldable elements, this baby is both light and sturdy, and built to last.
3) Legends of the Tour graphic novel
The grit and glory of the most famed bicycle race there is, the Tour de France, oozes from every meticulously drawn panel. Perfect combo for the comic book and cycling enthusiast!
'Oh, what a fantastic book this is. Not only is it a wonderfully concise history of the Tour, it is quite ravishing to behold. I adored it.' Observer.
4) Chapeau! Chamois Cream
Sssh! Let's talk butt comfort. Nothing's better than an hours-long ride outside, in the sun, with the breeze swooshing by, all sweaty and hot, right? Your other cheeks might disagree if you don't take care of them properly. Quality anti-rub chamois cream will take you a long way, literally.
5) Classic Puncture Repair Kit
The Cyclechic online store is a gold mine for stylish cycling accessories, gadgets, and clothing. Go check their 'Gifts Under £20' category and you'll be treated to a an almost unlimited treasury of gift ideas. We've fallen in love with the retro Classis Puncture Repair Kit.

6) Nuun Electrolytes Tablets
Good hydration is the key with any activity. If you've been interested in sports long enough, you must have come across electrolyte drinks – our faithful helpers, supplying minerals and energy on the go. But what if you're eco-conscious and don't want to buy a new plastic bottle for very bike trip? The Nuun tablets are the perfect solution, coming in 10 different flavours, you just pop one in your cycling bottle and you're all set! How about Watermelon?
7) The Cycling Cartoonist: An Illustrated Guide to Life on Two Wheels
If you combine love for cycling and drawing, you'll end up with Dave Walker. In a simple linear style, he captures the world as seen through the twisted eyes of an avid cyclist. We bet most of you will relate and the receiver of this brilliant little book will be able to lose themselves in the pages and catch a little break in the midst of the calmest and most peaceful holiday season of the year.
8) Delicate Bicycle Necklace
Do you know someone who draws a distinctive line between cycling and the rest of their daily activities, not wanting to come off as a pedalling freak, but still would like to have an elegant reminder of their passion? This subtle Bicycle Necklace comes in three colours and goes perfectly with any occasion.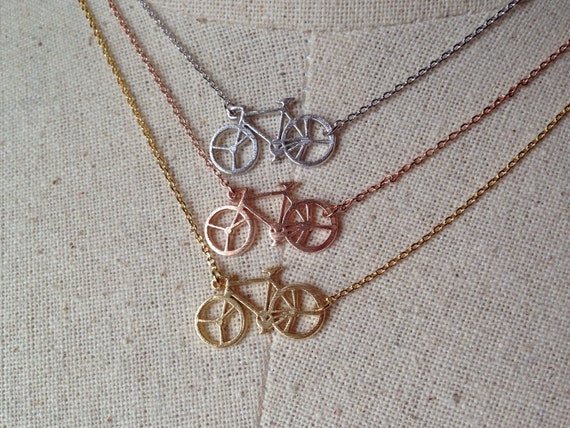 9) Cyclist Chocolate and Notebook Gift Set
Who doesn't love custom-made stuff? Quirky Gift Library is a bunch of design-loving chocolatiers who keep coming up with ingenious way to disguise or pair their favourite sweet thing. This cycling notebook & chocolate set allows you to personalize both – by choosing a notebook design based on various famous jerseys and by choosing the kind and topping of the chocolate bar. You can even add a tailored dedication!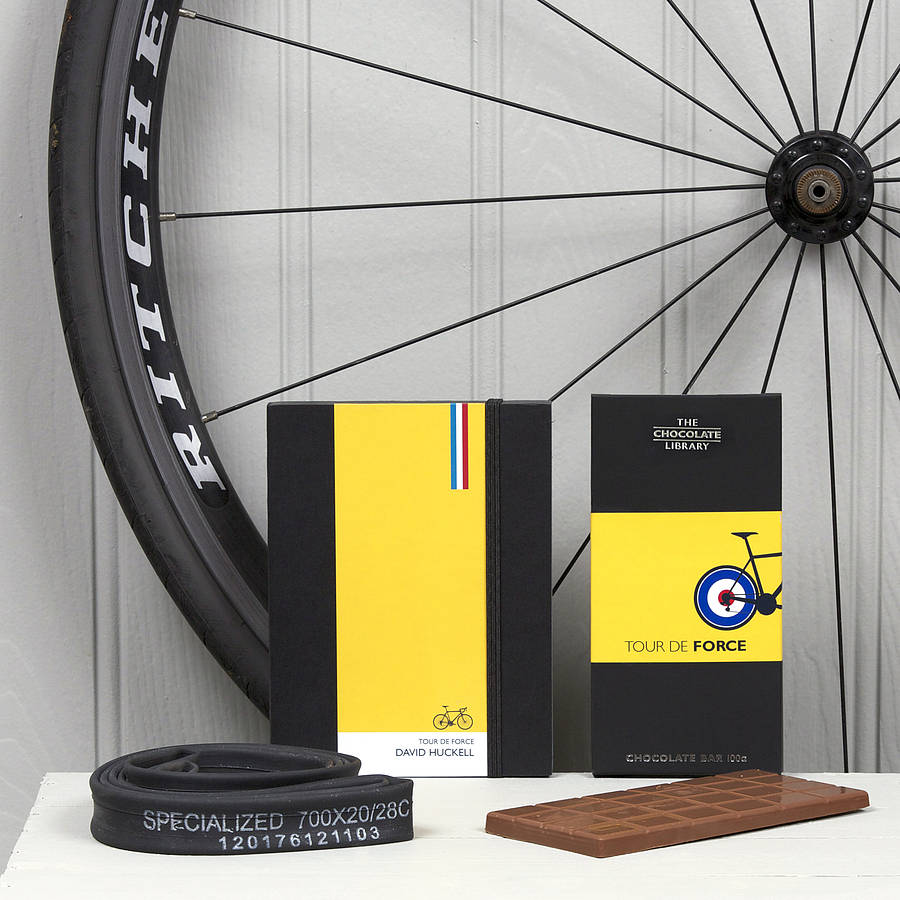 10) Happy Socks
And for the grand finale, do you know a cyclist with a little flamboyant streak? If they enjoy a dash of colour to their outfit without going overboard, these lovely socks are just the perfect solution. You can either choose from a wide selection of whimsy gift boxes or you can buy a single pair to spice up your favourite cyclist's Christmas goodie bag.
Whether you're the single cycling freak in your family or you were looking for a gift inspiration for any two-wheeled maniac, we wish you a safe autumn and winter cycling season!